Sports Afield Gun Safe company is a trusted manufacturer of high-quality safes. They offer a lot of safe options for all kinds of firearms owners.
In this list we take a look at some of the best products offered by this gun safe company reviewed by our expert panel. Hopefully it helps you find a great gun safe for your guns!
The reviews are in and this is one of the top-rated gun safes. The Sports Afield 30 Gun Safe ($649) is a sturdy fireproof safe. It can easily store up to 30 long guns, ammunition, and other valuables. All these valuables are protected by a solid steel door with eight 1.25 inch chrome steel locking bolts. The safe is made out of solid steel and uses full seam welding techniques to provide maximum security. It also offers fire protection for 30 minutes up to 1200 degrees with an expandable fire and smoke seal.
Pros:
The safe ships with fully adjustable top and side shelves. Along with a gun organizer. The safe has a lifetime warranty against fire, theft, and flood.
Cons:
Sports Afield should have included a pre-drilled hole for an internal power outlet.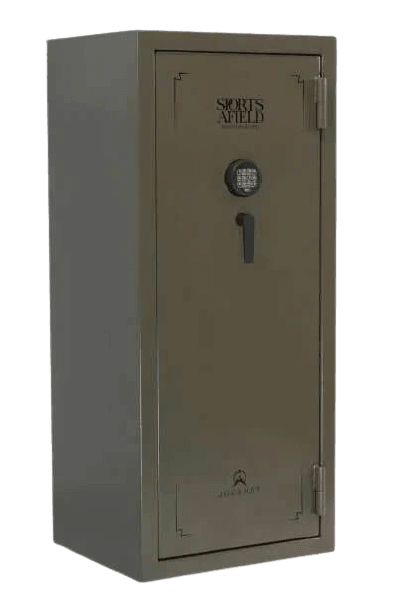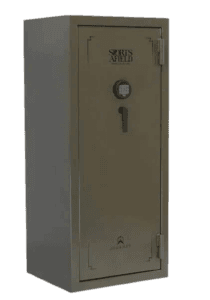 The Sports Afield 30 Gun Safe Journey Series ($655.10) is a relatively compact 30 gun safe out there. This safe is not fire-rated, but it has some very good safety features to keep your firearms safe and secure.
The safe features an electronic lock that has a theft alert system. It lets out a warning when the safe is tampered with. The locking mechanism operates a pry-resistant recessed door that swings a full 180 degrees for full access to the interior.
Pros:
Has full seam uni weld construction and five 1 inch live locking bolts for protection. Fully carpeted interiors, along with the adjustable shelves and the rifle organization system.
Cons:
It is a bit expensive, especially when compared to the Fire Rated Sports Afield 30 Gun Safe.
Other Sizes of the Journey Series Gun Safes:
The Sports Afield Preserve Series 40 Gun Safe ($1099) is a strong choice for people looking to store a fair bit of weaponry.
This series of safes are both fireproof and waterproof. They are rated to withstand 45 minutes of 1400 degrees fire. The Preserve Series safes also feature proprietary triple seal technology that can keep them waterproof for up to 7 days.
The internals are protected by heavy gauge steel walls and pry resistant doors. The doors lock into place using 1.5 inch steel bolts, for full coverage.
Pros:
Can accommodate up to 40 long guns and 8 handguns. Fully carpeted interior, sidewalls, shelves and barrel rests. Also ships with a deluxe door organizer to maximize storage space.
Cons:
At this price point they should have included an interior light and power socket.
Other Sizes of the Preserve Series Gun Safes: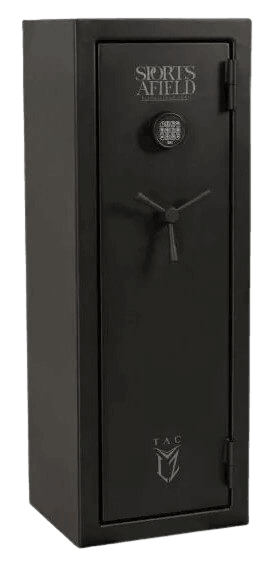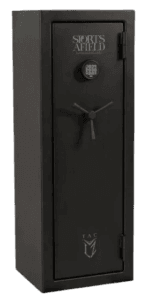 The Sports Afield Tac LZ Gun Safe ($803.33) might look like a straightforward tactical gun safe. Yet, it is anything but.
This 6 gun safe (can store up to 8 long guns) is totally fireproof up to 40 minutes and can stay waterproof for 7 days!
The safe is also heavy-duty, featuring a door with five 1.5 inch locking bolts controlled by an easy-to-use electronic keypad lock. And, according to Sports Afield, the safe's full seam uni weld construction will make it last a lifetime!
Pros:
The safe ships with plastic hanging totes, wire gun rest, shelves, and a molle-style door organizer.
The shelves are steel reinforced, allowing heavier items to be stored at eye level.
Cons:
Nothing specific, just that they could have provided a few more gun safe accessories to go with the safe.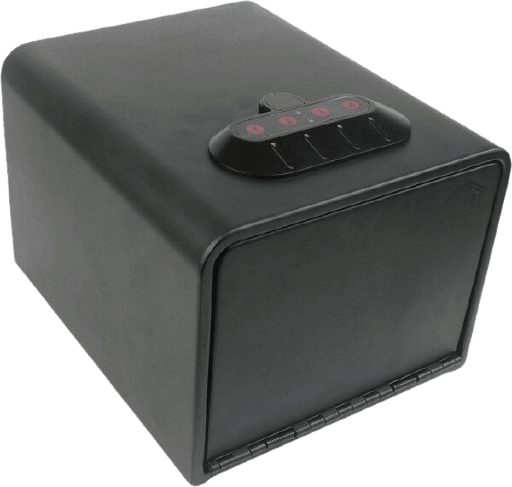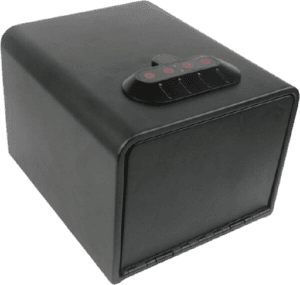 Moving on to the small gun safes, the Sports Afield SA-HD3 ($138.93) is a great choice for a bedside gun safe. The SA-HD3 is perfect for home use, as it is small quick access, no-frills handgun safe. The safe's simple 4 digit keypad is very easy and quick to use. Plus, the backlit keys are very useful for nighttime use. Two standard handguns can be easily stored inside this small safe along with a few other things. The spring-loaded door is also smooth to operate and the interiors are padded as well.
Pros:
For such an affordable small gun safe, Sports Afield provides a 3-year warranty.
The safe also features a sleek matte black body finish.
Cons:
Doesn't have a override key feature, which would have been useful.
There is a Single gun version of this safe as well. Check it out here:
Sports Afield SA-HD2 ($158)
The Sports Afield SA-PV2 ($120.56) is a home and office desk hand gun safe. At .081 cubic feet of internal volume, you can easily store multiple standard handguns and other items.
The safe features a 12-button fully illuminated and touchpad-activated electronic lock. Additionally, it also has a tamper indicator ensuring that you are the only one who has access. The SA-PV2 also comes with a bolt-down kit, so that you can fix it to a surface for added safety.
Pros:
The door-mounted key hooks and removable shelves are a nice touch. The safe also comes with interior lighting. This Sports Afield gun safe also provides a 3-year warranty.
Cons:
Doesn't have any official gun safety certification, but can be used to store handguns.
This safe also comes in a smaller drawer version. Check it out here:
Sports Afield SA-PV1 ($115.50)
Conclusion:
As made clear in this list, Sports Afeild Gun Safes are hardy and reliable. They have some amazing features for the price point, and they are highly rated by users.
Some other Sports Afield honorable mentions:
Sports Afield SAH1 ($300)
Fire & Water Resistant Home and Office Small Gun Safe
Sports Afiled SA-GC18 ($477.79)
A 18 Gun Security Cabinet
Hope you found this article useful !!
Also, Check out the list of our recommendations for small gun, long gun, and biometric gun safes to
FAQ
What is the best Sports Afield Gun Safe in the market?
The Standard Series SA5526BASIC ($649) 30 gun model is the best Sports Afield gun safe in the market today.

2. Who makes the Sports Afield gun safe?
SA Consumer Products Inc, located in Leawood, Kansas, United States, makes and markets Sports Afield gun safes.

3. How much does a Sports Afield 18 gun safe cost?
The Sports Afield Preserve Series SA5520P, 18 gun safe costs $706.09 at The Home Depot.

4. Sports Afield 24 gun safe how many guns?
The Sports Afield 24 gun safe can officially store up to 24 long guns and 4 handguns. More storage is also possible but not advisable.

5. What are the dimensions of a Sports Afield 20 gun safe?
The Exterior Dimensions of the Sports Afield Journey Series 20 gun safe is 55″H x 20″W x 17″D.

6. Where are the sports afield gun safes made?
The Sports Afield Gun Safe are made in both the United States and China, depending on the product ranges.
More Guidance
How to reset the combination on a Sports Afield Gun Safe?
It is very important, to reset your new gun safe with a new security code to provide maximum household security. Your security code must be between 3 and 8 digits.
Step 1: Enter Factory Code and open the safe
For all models, simply enter the factory code [ 1 5 9 # ]. If the code was successfully entered, you will hear two beeps and the green light will illuminate. Open the door by rotating the handle clockwise.
Step 2: Locate the battery compartment
With the door open, now rotate the handle counter-clockwise locking out and extending the active bolts. Next, inside the safe near the battery compartment locate the small copper cap, and unscrew it.
Step 3: Reset the lock
Press and release the reset button. You will hear a beep. The yellow light on the E-lock will illuminate so that you can enter your new code. You can only enter a new code while the yellow light is on.
Step 4: Enter New Code
Ensure your bolts are in the extended position, enter your new security code. Then, confirm your new security code by pressing the [ * ] symbol.
Step 5: Double Check the New Code
Do this at least 3 times before closing the door. Reinstall the copper cap over the reset button and close the door.
Note: If your code fails, you can repeat these steps until your code is accepted. If the incorrect security code is entered 3 times, you will have an automatic lockout for 20 seconds before you can try your code again.
o.