Stack-On Gun Safe is an Illinois-based company. It has over 40 years of proven success in the manufacturing of gun storage-related products.
Stack-On Gun Safes come in all shapes and sizes. Some are huge with the ability to store over 50 long guns, others are more compact only made for handguns. Either way, stack-on gun safes are sturdy, reliable, and a great choice for anyone in the market for a gun safe.
Whatever your requirement might be, in this list we have compiled all the best Stack-On gun safes of 2021.
Long Gun Safes
Top-of-the-line gun safe, the Stack-On Total Defense Gun Safe ($2700) is an impressive beast. This handsome-looking gun safe can hold up to 40 long guns.
At a height of 59 inches, it is a tall safe, and you can store a lot more than your firearms. The safe comes with five adjustable shelves, allowing you to store extra equipments.
If safety is your main concern, then fear not. The Total Defense features a drill resistant hardened steel plate door. It also has seven 1.5 inch live action locking bolts and three 1 inch dead bolts for a total of 10 locking points.
The safe is equipped with a simple electronic combination lock for reliable access.
Pros:
The safe is fire resistant for 75 minutes up to 1400 Fahrenheit. It is also waterproof in up to 2 feet of standing water for 72 hours.
The door storage organizer with sewn-in holsters and pouches is a great feature.
Cons:
There is no room for other storage if you choose to keep 40 long guns.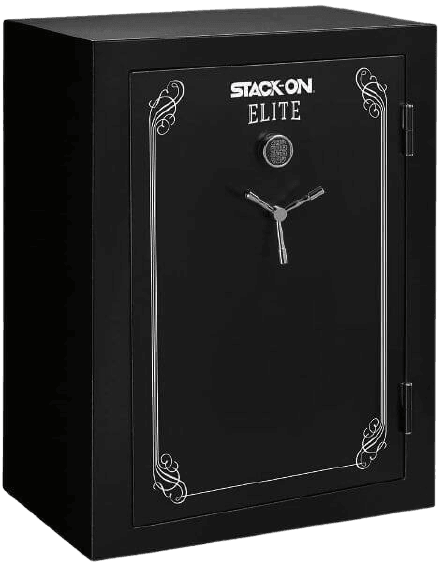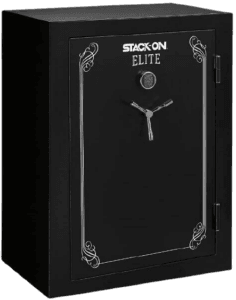 The Stack-On Elite Gun Safe ($2049.86) is an impressive-looking safe, that can store anywhere between 50 and 69 guns. It is designed to store both tactical weapons and long guns.
The Stack On Elite gun safe has a 30 minutes fireproof rating. It also has a 4-way locking door, ensuring firearms and valuables will be safe from theft.
The safe has a backlit electronic lock and includes lights for open, low battery warning, and incorrect entry.
Pros:
The safe has seven 1.5 inch live-action locking bolts and three 1 inch deadbolts for a total of 10 locking points. The Safe interiors are fully carpeted, and it also comes with a door storage/organization system.
Cons:
Unfortunately, the Stack-On Elite Gun Safe is not waterproof.
The Stack-On 18 Gun Safe ($324.99) is a compact gun cabinet that can accommodate 18 long guns. At 54 inches, the gun cabinet can hold most standard long guns, shotguns, and other types of rifles.
Safety-wise, the Stack-On 18 Gun Safe uses a double-bitted key lock with a 3-point locking system. You can also customize your storage with a fixed top shelf and four removable shelves.
Pros:
Comes in pieces and very easy to install. You can put this thing together in no time. Comes in two color choices.
Cons:
Since it's a gun cabinet, the steel construction is sturdy but not theft proof.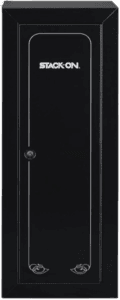 Another ready to assemble Gun cabinet. The Stack-On 14 Gun Safe ($206.75) is a great choice for hunters, outdoorsmen, and sports enthusiasts.
This gun cabinet can up to holds 14 long guns or shotguns up to 54 Inch tall. There is also a removable top shelf for storing hand guns, ammunition and other valuables.
Like other Stack-On gun cabinets, this one also features a 3-point locking system with a key coded lock.
Pros:
The removable shelf has a gap at the back so that longer guns can be stored along the back wall.It ships with contoured barrel rests, which is a nice feature to have.
Cons:
Becasue of it construction, moving around the cabinet too much can cause dents, if not careful.
The Stack-On 8 Gun Safe ($140.39) is the smallest long gun cabinet offered by Stack-On. This compact gun cabinet can store up to 8 long guns.
It is ideal for people who own a few long guns, along with a couple of o handguns. The cabinet is 53 inches tall, so it can fit most hunting rifles, AR-15s, and other shotguns.
The Stack-On 8 Gun Safe also comes with a removable top shelf and barrel rests.
Pros:
Very easy to assemble with fitting parts that can be fastened together. Has a 3-point locking mechanism with a double-bitted, key-coded lock.
Cons:
The interiors are not carpeted.
Stack-On Small Gun Safe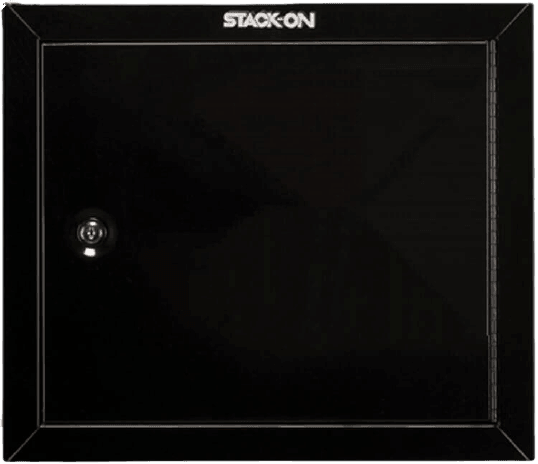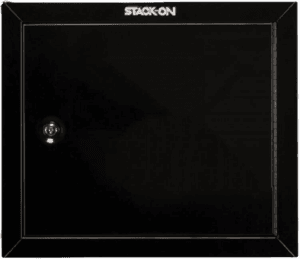 The Stack-On Pistol/Ammo Cabinet ($84.89) is an extremely affordable option to store handguns, ammo, and other valuables.
At 21 inches, the cabinet is very compact. Thus, it can be very easily mounted on any walls, closets, and floors. It can be mounted as an extension on top of other Stack-On 8, 14, and 22 gun cabinets.
The cabinet is constructed out of welded steel. Its locking mechanism is secured behind the door frame for added anti-theft safety.
Pros:
Approved by the California Department of Justice as meeting their standards for firearm safety.
Comes with two removable shelves and a foam padded bottom to protect your hand guns.
Cons:
The removable shelves might need some added support to store some heavy hand guns and ammunitions.
Conclusion:
As you can see from this list, Stack-On Gun Safes are a great choice for a wide spectrum of gun owners.
They are one of the few companies that make both huge safes that can accommodate over 50-60 guns and, also small personal safes. The range is noteworthy of praise and ends up covering most gun storage needs. So, we hope you find a suitable gun safe to serve you well for years to come!