Under-bed gun safes are a perfect combination of stealth and convenience. Having a weapon on the underside of your bed can allow for very quick access. Plus, most people won't look under a bed, so an under bed gun safe is very discreet as well.
In this list, we take a look at some of the best under bed gun safes that are out there today.
Under Bed Long Gun Safe
A highly rated safe, the SnapSafe Under Bed Safe ($579.99) is an industry benchmark in under bed weapon storage.
The safe comes in 3 different sizes, depending on your storage needs, as well as bed construction. But, all them are big enough to store multiple long guns along with various other valuables.
The locking mechanism is a simple keypad, and the safe has a slide-out drawer for quick access.
Pros:
14 guage steel construction with anti-pry locking bolts. The drawer can hold over 150 lbs, so you can store a lot of items without worry.
Cons:
For a safe which is above the $550 mark, Snafsafe could have included a fingerprint lock as well.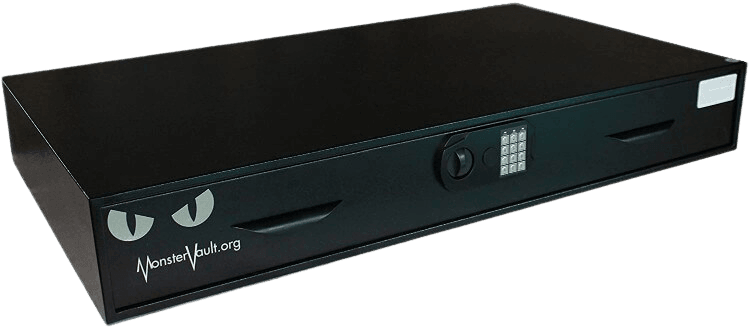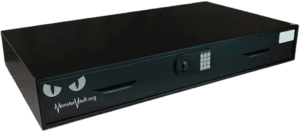 The Monster Vault Dual Lock Under Bed Safe ($699) is a sturdy under bed gun safe, made out of 140 lbs of cold-rolled steel.
Like other under bed gun safes, the Monster Vault also comes in 2 different sizes depending on your need.
The safe is accessed using a digitally programmable combination lock. With practice, you can open this safe in under 2 seconds!
Pros:
The Monster Valuts have deeper drawers than standard under bed gun safes. This boosts the internal volume of the safe.
The combination lock allows a 3 digit key all the way to an 8 digit key.
Cons:
Despite being deeper, the drawer is only rated at 100 lbs. This should not be an issue for most users, but it's still a bit below the others.
The Stealth Defense Vault DV652 ($513.75) is a bit different in its operation that other gun safes in this list. Instead of a drawer, it features a sliding tray-type storage.
This is very good for quick access to your weapons. However, it doesn't allow packed storage, as there are no front and side walls.
The construction of the safe is strong 14 guage steel. It also features a five point locking bar that can slide, giving access to the tray.
Pro:
The safe has a Backlit ESL5 electronic lock. That can be very helpful during nighttime usage. It will automatically turn on when touched, which is a coll feature to have.
Cons:
Due to its tray style, you will have difficulty storing anything other than weapons.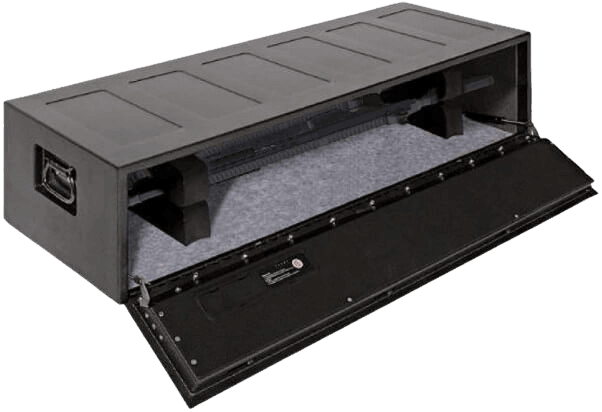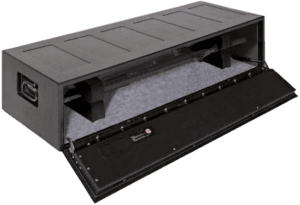 As the name suggests, the Hornady Rapid Safe AR Gun Locker ($499.99) is an AR-15 type under bed rifle storage system.
The safe is specifically designed to store long guns. If you are looking to store other valuables inside your under bed safe, then this is not for you.
However, if your priorities are to store weapons for home defense use, then this safe is for you. The internal storage configuration is ideal for quick access in case of emergencies.
Pros:
Definitely Hornady's proprietary RFID locking system. It is by far the quickest, most user-friendly, and reliable systems out there.
Comes in two sizes and ships with foam gun holders to keep your rifles in place.
Cons:
Made out of 16 guage steel instead of the more common 14 guage steel. But, this is not really a con, the safe is still very durable.
This one can't be considered as an under bed gun safe. However, since it can replace your bed-front bench, we have decided to include it in our list!
The American Furniture Classics- Wooden Gun Concealment Bench ($449.70) is exactly what it sounds. It is a furniture first, with a locking gun compartment inside it. The concealed compartment can store up to 5 long guns and multiple handguns.
Pros:
Since it is designed to be a functional furniture, this bedside gun safe is extremely discreet.
The storage compartment comes lined with foam padding for protection. It also features an extra handgun tray.
Cons:
Not really a safe, so neither does it have a sturdy construction, not a very stong lock. But then again, that's not what it was designed for, so we can ignore them.


The Moutec Storage Drawer ($349.99) is a very affordable under bed gun storage option. It can store more than one long gun and other valuables easily.
Made out of 16 guage steel, it might not be the strongest safe out there. But, the feel of this particular safe is very rugged.
The interiors are properly padded for non-abrasive storage. It also comes with Velcro bands to hold up your long guns, in case you want to mount the safe vertically.
Pros:
Despite its thin body, the safe features two locking bolts on either side of the drawer. This is quite a good feature to have in your safe for anti-theft protection.
The safe also has a burglar alarm and interior LED light for nighttime visibility.
Cons:
The digital keypad is not backlit, and that can be a slight inconvenience.
The Secure It Model 47 ($359) is an affordable under bed gun safe, similar in many aspects to the Moutec.
There is also a Secure It Model 40. Both safes are pretty much identical, but we recommend the Model 47, as it has 7 inches of more width. This will be very helpful to store guns with scopes on them. Plus, the Model 47 is only $10 more!
Like the Moutec, it also comes with quick release tie down straps and cushioned interiors.
Pros:
The locking system is the simplest of all the safes in this list. It is only 4 keys arranged horizontally, thus the contents of the safe can accessed with eyes closed!
Cons:
Unlike the Moutec, this safe doesn't feature any locking bolts. That makes it more susceptible to prying attacks.
The final long gun safe on our list, the SafeArms Under Bed Gun Safe ($299.99) is the most affordable under bed gun safe out there.
The safe is decently sized for most under bed applications. It can store multiple long guns, handguns and valuables.
The locking mechanism is relatively easy to use, as it features an electronic keypad. The safe also has an override key access point, for alternate access.
Pros:
The safe ships with a waterproof pouch and a dehumidifier, which is a nice touch.
Cons:
The construction of the safe is not the best, but for under $300 you get what you pay for.
Under bed Small Gun Safe
Now most under bed gun safes are designed for long guns. But, you can choose to store handguns under your bed as well.
Although these safes are not for under the bed usage, we believe you can use them for that purpose just fine.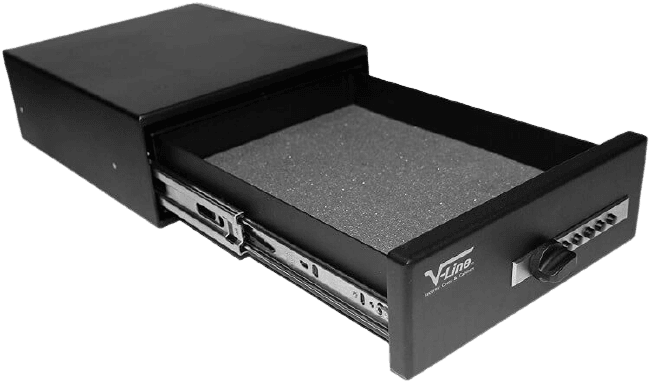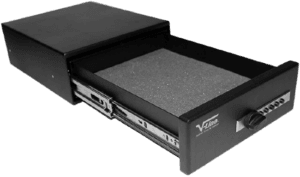 The V-Line Security Safe ($266.99) can be easily mounted under your bed, providing quick access to 2 handguns.
This safe also comes with an optional metal half-tray. Which can store other items and at the same time hide the guns underneath it.
Pros:
The outer box is made out of 12 gauge steel, which is the strongest steel construction out of all the safes in this list! The pushbutton lock is fully mechanical, so the system is not prone to failure or batteries dying out.
Cons:
As it needs to be mounted to your bed frame, the safe is not completely theft proof. Yet, it will do its job of storing handguns under your bed.
Find more small gun safes here
Another safe not really designed for under bed usage, but we don't see why not!
The Awesafe Drawer-Style Gun Safe ($139) is by far the cheapest biometric under bed handgun safe you will find. Granted, the fingerprint lock is not the best, but it also features a simple 4 key key-pad for quick access.
The safe is spacious enough to easily store two standard handguns and a few other items.
Pros:
The drawer is spring-loaded. It automatically slides out upon unlocking, which is a cool feature at this price point.
Cons:
You get the steel that you pay for. It is true for this safe as well. The construction is out of 18 gauge steel, not the best, but it will do the job.
Conclusion:
There you have it, the best selection of under bed gun safes out there, for all your home defense needs.
Remember, be responsible while storing weaponry. Always make sure to fix your safe securely or tether it to something solid. That way, stealing it would be that much more difficult.
FAQ
Where to buy under the bed gun safe?
You can buy under the bed gun safes from online sites such as Amazon, The Home Depot, or Walmart. You can see the full reviews for the gun safes above.
What is the best under bed gun safe?
Here are some of the best under-bed gun safes in the market today.
Guidance
How to install an under bed gun safe?
Step 1: Identify mounting holes
Most under bed gun safes will ship with pre-drilled mounting holes and hardware.
Step 2: Drill mounting holes if not present
If yours doesn't, you will need to drill mounting holes in your safe first and then buy the right kind of mounting hardware.
Step 3: Drill holes on your floor
Identify the right place to mount your safe. You should be able to operate it comfortably from your bed. Use the safe as a guide to drill holes into your floor.
Step 4: Mount the safe
Secure the safe by screwing it in place using the mounting hardware.
Note: Most under bed safes will also ship with a security cable. After mounting the safe, it is also a good idea to tie the safe to a secure post as well.