Best Winchester Gun Safes of 2021
The Winchester Gun Safe Company is a well-known brand when it comes to firearm storage. The American brand has been around for more than a hundred years, so their popularity comes as no surprise. In this list we list out the Best Winchester Gun Safes of 2021.
Before we begin, it is important to clarify that these safes are designed for long gun owners. People who own multiple firearms and are very serious about their security. Winchester Gun Safes are big, strong and requires a sizable financial and space commitment from their owners. So without further ado, let's dive into the list.
This is a classic long gun safe. The Winchester 50 Gun Safe (Big Daddy Series) ($ 2314.28) is a wide-body, dual rack gun safe aimed at gun collectors. The racks with its barrel stops offer easy access and storage of long guns. Plus there is a fixed top shelf for smaller items. It's a great size for a great value!
This is a fireproof safe with a lot of unique fire resistant features. And, it can store up to 42 long guns and can accommodate 8 more hand guns in its door organizer.
Pros:
Simple and easy to use electronic lock.
12 gauge steel body construction built with continuous robotic welds. It features a 3 way active locking bolt system with fourteen 1.5 inch solid steel bolts, including dead bolts. Plus it has a pry-resistant recessed door and reinforced steel return door jam.
Proven 75 Minute fire rating at 1400 degree Fahrenheit, with a heat expanding door seal, creating a barrier against heat and smoke.
Cons:
This safe is not waterproof.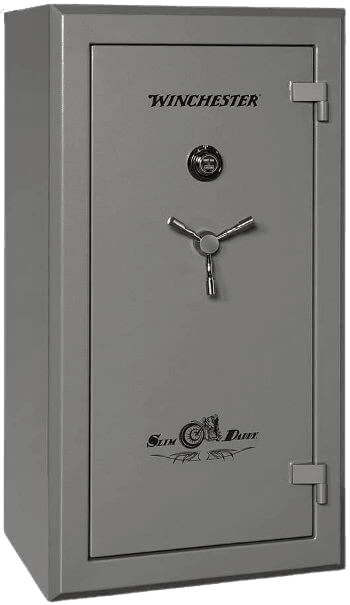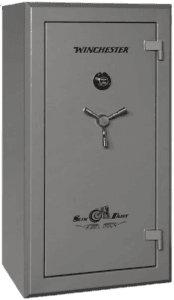 The slimmer version of the full size Big Daddy safe. The Winchester 30 Gun Safe (Slim Daddy) ($ 1227.78) is a great choice for people with a little bit of a space constraint and lesser guns to store.
This safe has almost all the features that it's big cousin flaunts, but comes in a smaller size. The only major difference is the locking bolt size. Which in this safe is 1.25 inches compared to 1.5 inches in the Big Daddy. Other than this all fire resistant features and burglary protection features are exactly the same.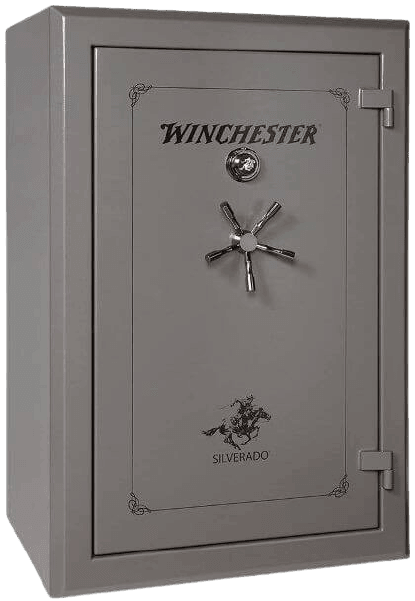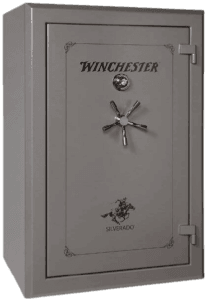 Another Winchester Classic! The Winchester 48 Gun Safe (Silverado 51) ($3348.14) is an even stronger long gun safe, than the last one. This safe is made out of 10 gauge solid steel and is fire resistant up to 120 minutes in 1400 degrees.
It features a simple S&G mechanical lock with no vulnerable solenoid or key override feature. And it's safety rating exceeds the California DOJ Requirements by a lot.
Pros:
Comes with 1.5 inch solid steel locking bolts with six dead bolts and twelve active bolts. Spread around the top and bottom for added pry resistance. Features a motion-sensing LED light and a power system with 2-110 volt outlets and 2-USB slots. It also has an adjustable shelving system and easy-access barrel racks with auxiliary shelves. Also ships with a door panel organizer.
Cons:
Again not water resistant which should been a feature at this price point.
The compact and cheaper version of the Silverado 51, the Winchester 48 Gun Safe (Silverado 40) ($ 2489.49) is about 10 inches smaller. It also has 10 cubic feet of less internal volume but can store the same amount of firearms.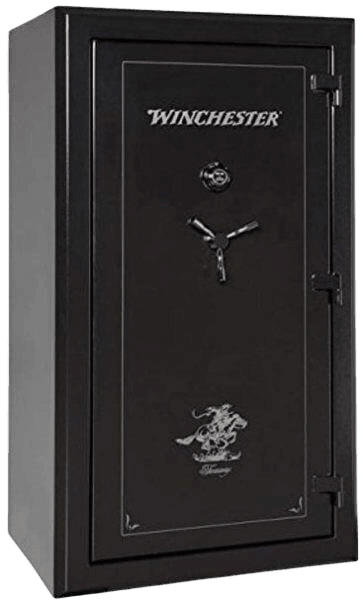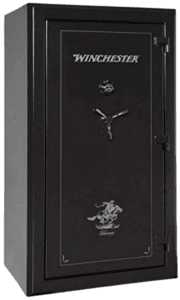 Another heavy-duty safe in the Winchester lineup. The Winchester 48 Gun Safe (Treasury Series) ($1934.39) is a safe that offers similar features to the earlier Silverado 51 but at a significantly lower price.
Because of its smaller price tag, this safe only has a 90-minute fire rating at 1400 degrees Fahrenheit. It also features a single layer of heat-expanding door seal instead of two. Finally, the safe's internal storage volume is 2.5 cubic feet smaller than the Silverado 51. Other than these minor differences, both safes can store up to 48 long guns.
Pros:
Way more affordable than the earlier models. Sports a solid steel 10 gauge body formed with robotic continuous welds and strong anti-theft features.
Cons:
Because of the smaller volume, it might be difficult to store a lot of scoped long guns.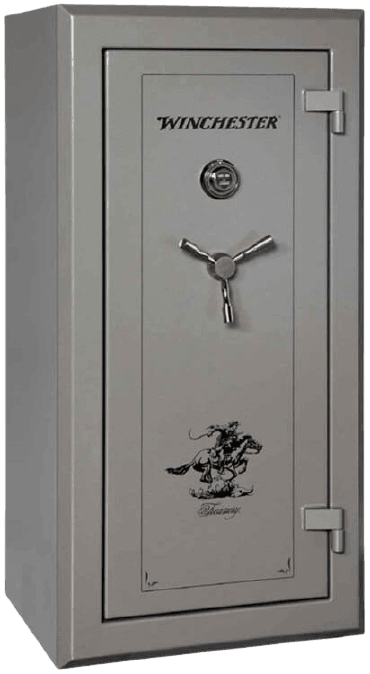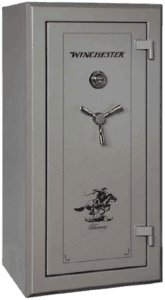 A smaller 26 gun version in the Treasury Series lineup. The Winchester 26 Gun Safe (Treasury Series) ($1693.84) features almost everything that the 48 gun safe model has, except its size and number of locking bolts.
This safe's internal volume is almost half that of its bigger cousin (26 vs 48.3 cubic feet). Thus, for $300 more we would suggest going for the bigger one if you have the space to spare.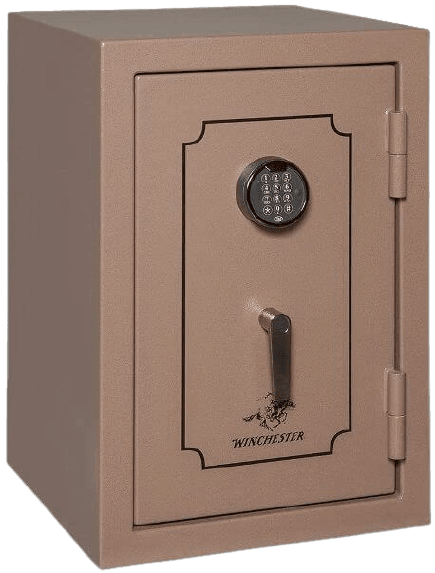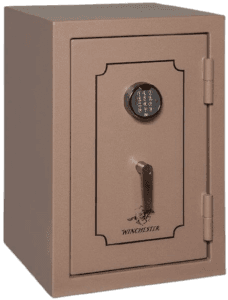 The ($1225.68) is a great choice for people looking to securely store firearms and other valuables in a home and office setting. It is the only compact home safe in the Winchester line up.
You pay over $1000 for this safe because of its excellent fire resistance technology and burglary protection. The safe can stand up to 60 minutes in 1400 degrees Fharenhite. It also has a heat expanding heat seal along with fireboard protection in the ceiling, walls and door.
Pros:
Features am EMP resistant electronic lock with no vulnerable solenoid key override. Three 1 inch solid deadbolts and active bolts each. Adjustable shelving system, a power docking system and a door organizer.
Cons:
At this price point it should have included an internal light kit and some more storage accessories.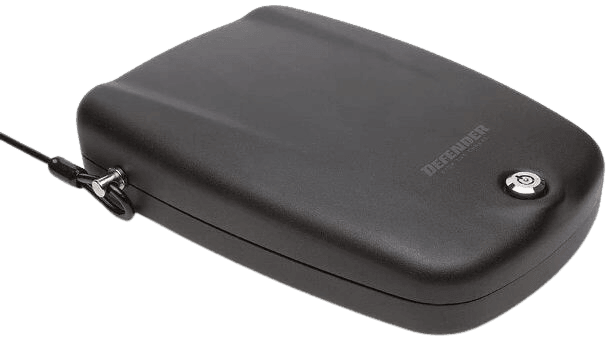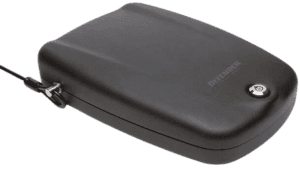 The final one on our list is a pistol lockbox. The ($99.99) is a sturdy lockbox, perfect for home, office, and car usage. This safe will fit most 1911 size pistols and revolvers.
The Defender features dual internal locking lugs and a 4 point capture mechanism, which is very effective against prying attacks.
Pros:
Meets TSA requirements for handgun safety in checked luggage. Ships with pre-drilled mounting holes and a 1500 lbs security cable.
Cons:
It can't store a full size pistol or extra magazines.
Conclusion
As you can see these gun safes are a bit on the pricey side. But you can be rest assured, they won't compromise on quality unlike many other brands in the market today. And good quality is important because a gun safe is a once-in-a-lifetime buy!
Thus, we hope this list helped you make a selection and answered all your questions about Winchester Gun Safes.
Interested in Stack-On Gun safes ? Check the best reviews here.
FAQ
Who makes Winchester gun safes?
The parent company which owns and makes Winchester Gun Safes is Granite Security Products Inc. located in Fort Worth Texas, United States.
How to change the battery in the Winchester gun safe?
Locate and open the battery cover at the bottom of the keypad housing. Then replace the old battery with a new one.

What is the best Winchester Gun Safe?
In our opinion, the best Winchester Gun Safe is the Winchester Silverado 51 ($3348.14).

How good is the Winchester 24 gun safe?
The only 24 gun safe Winchester offers is the Bandit 19. The safe is fireproof for 45 minutes and exceeds California DOJ's safety standards. So it is a pretty good safe.

Where to buy Winchester gun safe?
You can buy Winchester gun safes from online sites such as Amazon, The Home Depot, or Walmart.
Guidance
How to change the combination on Winchester gun safe
Winchester gun safes can be fitted with various lock brands. They all have a slightly different way to change the combination. But, here we list out the most common method to do so, and it should work for most safes.
Step 1: Open the safe
Input your key code. If entered correctly you will hear the safe open. Twist the locking handle clockwise to release the bolts and open the door.
Step 2: Enter programming mode
Enter in six (6) zeroes to enter programming mode. If done correctly, you will hear a double beep. If you do not hear a double beep, leave the door open and start over at Step 2.
Step 3: Confirm your existing Key Code
Enter your EXISTING six (6) digit combination code. If done correctly you will hear a double beep. If you do not hear a double beep, leave the door open and start over at Step 2.
Step 4: Enter your new Key Code
Enter your NEW six (6) digit combination code. If done correctly you will hear a double beep. If you do not hear a double beep, leave the door open and start over at Step 2.
Step 5: Set your new Key Code
Repeat Step 4 one more time, you will hear a double beep again. Wait ten seconds before moving on to the next step to allow your combination to be permanently set.
Step 6: Double-check before closing the door
Check by entering your new combination. If the procedure was executed properly, you will be able to rotate the handle. If you cannot rotate the handle, leave the door open and start over at Step 2.
Note: If you close the door after this entire process, and it won't open with the new combination. Don't worry your last combination should still be valid. Just repeat the steps again.